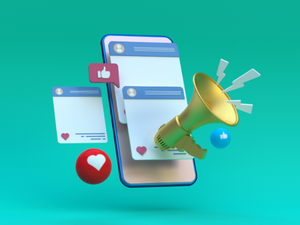 Businesses can significantly benefit from utilizing social media as a marketing tool. With billions of people using social media worldwide, it presents a unique opportunity to reach potential customers and grow your business. 
To get started, creating a social media marketing plan is essential. This will help you identify your target audience, set goals, and outline your strategy. Some elements to consider when creating a plan include:
Choosing the right social media platforms: Different platforms cater to different audiences, so it's crucial to select the ones that will best reach your target customers. For example, LinkedIn is an excellent platform for B2B businesses, while Instagram is popular for visual content.
Setting goals: What are your social media marketing objectives? Some common goals should include increasing brand awareness, driving traffic to your website, or generating leads.
Developing a content strategy: Posting engaging and relevant content is key to building a following on social media. Consider what types of content your audience is interested in and how often you will post.
Once you've established a strategy, it's time to begin creating content. Focus on producing visually appealing, educational, valuable pieces to grab your audience's attention. This can include blogs, infographics, videos, and more. 
Utilizing paid advertising is another technique to get your company's presence on social media recognized. For example, you may target particular demographics and interests with tailored advertising on Facebook, Instagram, and LinkedIn. This can be a practical technique to reach potential consumers on a budget. 
For businesses, social media is a tremendous marketing tool. Companies that create a social media marketing plan, publish engaging content, and use paid advertising can reach a larger audience and expand their business. Using social media to enhance brand recognition and client base could be a game changer for small businesses.