IT Consulting Since 2001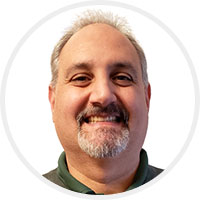 In 1988, I started my career as a Civil Engineer in the construction industry. For seven plus years I designed buildings, parking structures, sewer systems and subdivisions as a member of an engineering design and construction firm. During this time, I also worked with multiple computer and software systems developing both design and network skills. As the construction industry declined in Northeast Ohio, I transitioned fulltime into the computer network support industry. Over the next five years I built my knowledge on a broad base of hardware and software systems.
In 2001 I formed KPEK.Net, Inc. to provide direct IT systems support to clients. Our philosophy is to serve our clients through excellent IT network design, strong maintenance programs and 24/7 technical service. Through the years we have continued this philosophy, built our platform of tools to best serve the client on a consistent basis and expanded relationships with our clients to keep their businesses running smoothly, efficiently and handle issues before they become headaches. KPEK.Net, Inc. continues to strive to establish and maintain long-term client relationships with client specific solutions at a very optimized cost.
A Letter from My Desk
Dear Fellow President/CEO,
Kpek.Net, Inc. has been servicing Northeast Ohio since 2001.  Even though we are in the IT business we know how frustrating and costly it can be maintaining an IT infrastructure.  You want your employees to work on your business growth and not frustrated trying to make the tools you have provide work.
At KPEK.Net, Inc. we will help alleviate these bottlenecks and get your employees back on the right track.  Let us show you how we can make you IT solutions better.  I am willing to give you 2 hours of free service to better show you how to resolve day-to-day issues that frustrate small to medium sized businesses everywhere.  If you don't believe you have any current issues, let us spend those 2 free hours of service on a security audit of your network.  We then can sit down and map out any weaknesses and even find issues before they occur.  Our system platforms monitor issues before they cause an issue and we keep your IT running smoothly before the issue causes downtime.  Most issues are resolved without you knowing a potential issue even happened.
Please take the time to take advantage of this service offer.  We have dedicated the time and resources to put together the best tools possible to support our platform solutions to make your IT experience with KPEK.Net, Inc. like your long-time valuable veteran employee.   We look forward to meeting with you and welcoming you as one of our happy, long term clients because working together brings success and growth.
Sincerely,
Paul Insana
President, KPEK.Net, Inc.